Last week, Apple silently announced that they would be discontinuing the extremely thin, futuristic, and quite expensive 12" MacBook. This was a super minimalist computer, with very few ports, no fans, was extremely light, and overall a very sexy notebook. Launching in 2015, this MacBook's life was short-lived. So in commemoration of this notebook, let's take a walk though the life of the 12" MacBook. 
Unveiled to the world on the 9th of March 2015, it would seem that Apple had made this new MacBook to replace the MacBook Air, which at this stage, was looking older and older. The MacBook Air, at the time, also omitted the highly-praised Retina display, which the new 12″ MacBook featured. The design for the this MacBook was seriously futuristic. It was a designed to be a thin as they could possibly make it, and Apple did just that. The 12" MacBook weighed just two pounds, which is just 0.91kg. It was also only 13.1mm thin, a new precedent for the Mac lineup. It was the thinnest and lightest Mac ever made. This was the first MacBook to feature the highly-controversial Butterfly-mechanism keyboard, which was added to this computer because it was lighter, 34% thinner, and more compact than the previous-generation's Scissor mechanism keyboard. It was also the first MacBook computer to get the new Force Touch trackpad, which would later appear on all other Mac laptops such as the 2016 MacBook Pro and the 2018 MacBook Air. Ports was the strangest thing about this computer. Why? Well, it truly only had two ports – a singular USB-C port for charging, data transfer, and more, and a headphone jack. That was it. The 12" MacBook came in three finishes – Space Grey, Silver, and Gold. It was also the first MacBook to feature a non-glowing Apple logo (RIP). It was also the first MacBook to be built in an all-metal enclosure. At the time, Apple called the 12" MacBook the "future of the notebook".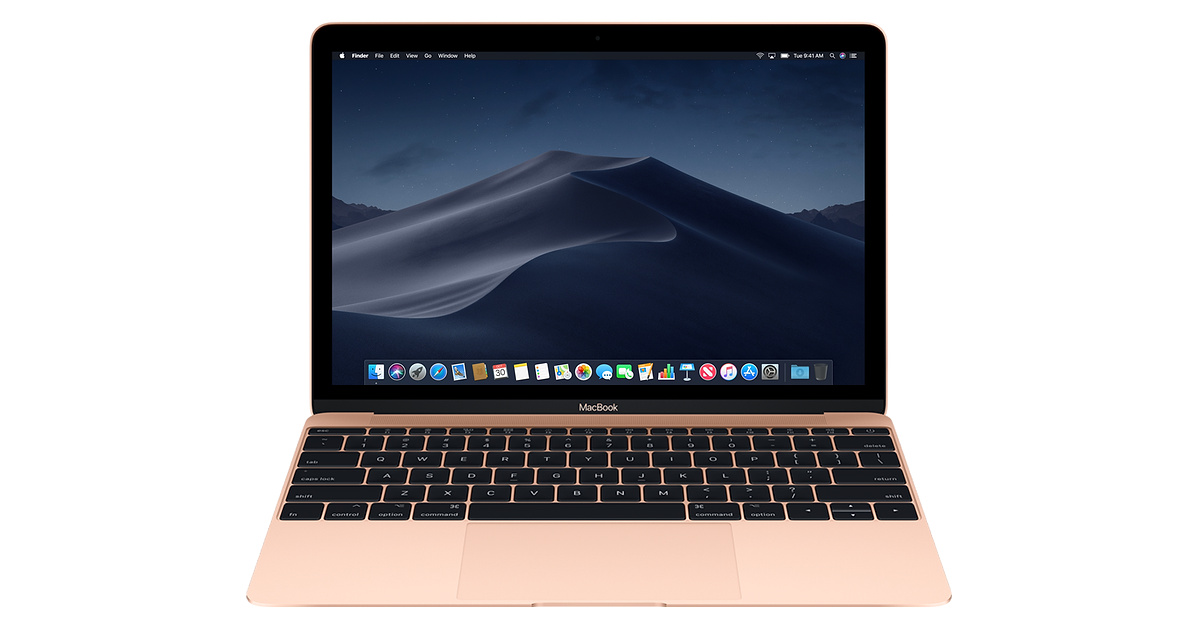 So what happened internally? Quite a lot, actually! The MacBook in 2015 featured a 12" Retina display, a (pretty awful) 480p iSight camera, 8GB of LPDDR3 SDRAM, Intel HD Graphics 5300, Bluetooth 4.0, and one USB Generation 3.1 port. Also, this MacBook had no fans! Yes, you read that right,. This computer had zero fans inside thanks to the Intel processor inside, which didn't actually require fans. Also, the logic board for the 12" MacBook was 67% smaller than the logic board of the 11" MacBook Air. In terms of processors, there were three configurations that you could get with your MacBook. Base model was a 1.1 GHz dual-core Intel Core M Broadwell processor with Turbo Boost up to 2.4 GHz and 4 MB L3 cache. One tier cup from that was a 1.2 GHz dual-core Intel Core M Broadwell processor with Turbo Boost up to 2.6 GHz and 4 MB L3 cache. The final tier, which was the maxed-out version of this computer featured a 1.3 GHz dual-core Intel Core M Broadwell processor with Turbo Boost up to 2.9 GHz and 4 MB L3 cache. Overall, this machine was powerful for it's design, weight, and size, but compared to other computers such as the MacBook Pro at the time, this was not a powerful computer. It could be used for simple browsing, but nothing heavy duty. 
The battery was super special inside this computer. The MacBook featured a terraced battery design that was layered in individual sheets that were contoured to fit the MacBook's curved enclosure. As someone who used this computer for a while, the battery was pretty incredible. Why? Well, it didn't run anything heavy duty at all. It was very simple usage. It had no fans, so it only powered what it needed to, which was very little. 
When it launched on the 10th of April 2015, it received mixed reviews. Despite the thin and light design being praised by many, most found faults with the slow processor that was featured inside, the lack of ports compared to the considerable cheaper MacBook Air, and the price. The laptop launched with the price tag of €1,249 and could go up to over €1,450, which was more than the hugely-popular MacBook Air. 
Following its launch, adoption was slow. It never really became mainstream and it never really fell into the hands of millions, unlike previous and future Apple computers. One year later, on April 19th 2017, Apple updated the MacBook with some internal upgrades. They changed the processors from the Dual-Core Intel Core M to the Intel Core m3 Skylake processors. The RAM also went from 1600 MHz SDRAM to 1866 MHz SDRAM. The graphics also got an upgrade with the Intel HD Graphics 515 and the battery went from 39.7 Wh battery to 41.1 Wh battery. Also, this iteration of the MacBook added a new colour – Rose Gold, which was taken from the iPhone 6s.
Following this, on June 6th 2017, Apple once again silently updated the MacBook's internals for the final time, while not changing anything on the outside. The base model became a 1.2 GHz dual-core Intel Core m3 Kaby Lake processor with Turbo Boost up to 3.0GHz with 4MB L3 cache and went all the way up to a 1.4 GHz dual-core Intel Core i7 Kaby Lake processor with Turbo Boost up to 3.6GHz and 4 MB L3 cache. Perhaps one the biggest upgrades in this iteration of this notebook was the fact that you could now get the RAM customised up to 16GB, where as previously you couldn't get and higher or lower than 8GB. The graphics were updated to the Intel HD Graphics 615 and it got Bluetooth 4.2, a good improvement over the Bluetooth 4.0 found in both the original 2015 and 2016 models. This MacBook also adopted the new 2nd-Generation butterfly keyboard which supposedly was more stable and reliable than previous generations. Supposedly.
And that was it. That would be the last time we would see an upgrade to Apple's most futuristic laptop. After June 2017, Apple never upgraded it internally. Actually, they didn't touch it at all until a few days after the 2018 MacBook Air was announced, when they killed the Space Grey, Gold, Rose Gold, and Silver colours and replaced them with the new gold colour from the newly-announced 2018 MacBook Air. Up until last week, that was the only colour you could get the laptop in. 
October 2018 was the last time Apple touched the 12" MacBook and the next piece of news we would see around it was when Apple decided to kill it on the 9th of July, 2019. I have a bit of a love/hate relationship with this laptop. I adore it's appearance. I find this computer to be one of the best-looking computers I have ever seen. It looks like it should be an ornament on display rather than a computer that you use on a day-to-day basis. However, whenever I used this Mac, I always felt like it was an ornament with an operating system on it. It never felt really like a computer to me, and when Apple discontinued it, I really wasn't surprised. It was what I was expecting for such a long time, and to be honest, I'm actually surprised Apple didn't kill it sooner. Also, in some cases, the elegant design of it went against it. The amount of times I have been in Apple Stores, playing with the new products, and I hear someone looking at the 12" MacBook and saying to their friends or partners "This one isn't for me. I feel as though I would break it".
Anyway, I hope you enjoyed this look-back on what I consider to be one of Apple's most progressive designs. What's your experience with the MacBook? Let us know what you think in the comments below!